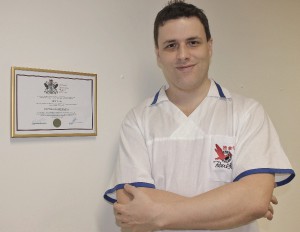 Hello,

My name is Martin Bouska welcome to my website. I am mainly devoted to high-quality Chinese and osteopathic methods in musculoskeletal problems (back pain, neck pain etc.) and teaching traditional chinese exercise for health - Dayan Qigong. As one of the few in the Czech Republic , I have received title of Doctor Osteopathy from the National University of Medical Sciences in Madrid in their four years program Doctor of osteopathy. Chinese modalities and Osteopathic modalities which originate from USA includes special mobilization techniques, soft and deep tissues techniques which can in many cases eliminate chronic musculoskeletal problems.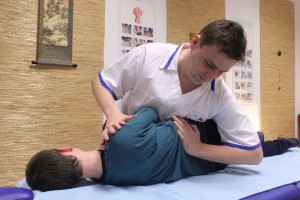 Patients come to me with various pains and difficulties, as well as people who want a preventive Chinese massage or just because of indulgent relaxation. Among my clients are managers, athletes, mothers after childbirth and seniors.

My journey have started with studies of Chinese medicine in Peking University of Traditional Chinese Medicine.I have gained knowledge and skills through several years of study and practice in China´s hospitals. I have learned from Chinese doctors and masters of traditional health exercises (Qigong) . My studies followed up with studies in the National University of Medical Sciences in Madrid including clinical practice in Osteopathy in Canada and Spain. where I was thought by medical doctors, chiropractors and physiotherapists. Providing professional care at the highest level and constantly keep educating (the practice in Chinese hospitals, internships, study Osteopathy etc.).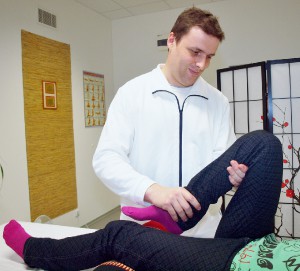 DO NOT HESITATE TO CONTACT ME :
Mgr. Martin Bouška, DO
email: infotherapyarts@gmail.com
Phone: +420 604 26 25 20
In a nutshell
From year 1997-2008 studying mainly Wing Chun kung fu (now I continue to study with Jan Novak Sifu Sanda and Self defence)
In year 2008 beginning of my Chinese language studies in Beijing Culture and Language University started also with martial arts Xing Yi, Bagua Zhang and with medical qigong Dayan qigong.
V roce 2009 chinese competition in tao lu (forms) (xing yi) in Beijing (Peking), (from 32 chinese competitors I was 20th.)
In year 2010 inese competition in tao lu (forms) (xing yi) in Beijing,( from 28 competitors I was 8th.)
In year 2010 entering into world Bagua asociation as a Bagua Zhang coach and researcher.
In year 2010 chinese competition in tui shou (pushing hands) in Beijing, 5 place
In year 2010 Dayan qigong studies finished with certificate
In year 2009-2010 Traditional chinese medicine specialized in chinese massageTui na, cupping and other methods finished with certificate.
I would like to thank all masters and people who gave me such a great experiance and make my live more easier like master Zhang Wei Dong, Gao Ji Wu, Wang Tai Li, Jan Novak , Chinese ambassy for their support, my friends and much more...Thank you!!